June 10th, 2021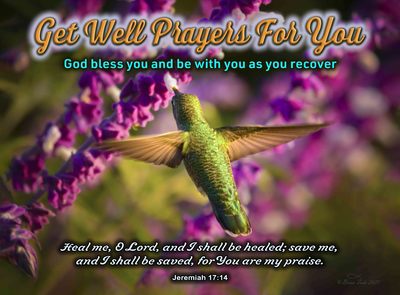 I made this get well card from my hummingbird photo for a person going through brain tumor surgery who is a fellow subscriber to the Christian Healthcare Ministries cost-sharing community.

It is now being made available on my portfolio here on Fine Art America.

According to an online poll, Jeremiah 17:14 was the most popular healing Scripture, so I have added this comforting verse to the card:
"Heal me, O Lord,
and I shall be healed;
save me, and I shall be saved,
for You are my praise."

My heart-felt prayer is that the precious love of Jesus, the presence of the Lord and the comfort of the Holy Spirit will go with this card as you order it and send it on to a loved one who needs a healing touch from the Master Healer.

Greeting cards of this image are available here:
https://propheticportraits.net/featured/hummingbird-get-well-card-brian-tada.html?product=greeting-card

Ordering tips:
* Enjoy a significant discount on the price per card with a 10-pack or 25-pack.
* The inside of the card may be personalized with a brief message. Type in your message in the text box provided. PLEASE NOTE: If ordering a 10-pack or 25-pack with a personalized message inside, the interior message will be identical for all 10 or 25 cards in the box.

God bless you and be with you.

Brian Tada

www.PropheticPortraits.net


*****

Photography Notes::

Although I've had the joy of taking many pictures of hummingbirds in flight, this one is particularly special to me, as it is an answer to prayer.

I asked God to be able to take a photo of the iridescent emerald backside of a hummer as it glistened in the late afternoon sun. The Creator of the universe answered my heart's desire not once, not twice, but three times in succession, resulting in this "over-the-shoulder" view as this sweet bird inserted her long thin beak into a vibrant salvia blossom.

This photo is the best one I chose of the three.

Each time God sends a hummingbird, it's as if He is saying, "Trust Me. I've got your back. All will be well."

This close-up photo was taken with natural afternoon sunlight. I am so grateful to God that the lighting and elements came together naturally for this image.

To view full photo resolution, please visit:
https://https://propheticportraits.net/featured/hummingbird-get-well-card-brian-tada.html

This blog article was originally published on June 10th, 2021.