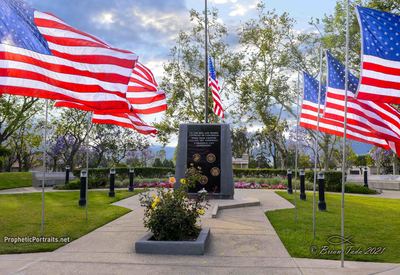 It's been called the traditional beginning of summer in the U.S. A time for picnics, parades, barbecues and getting away from the busyness of life for a break.

Memorial Day may involve some or all of these activities and more ~ but its origin is quite different from today's image of the holiday.

Which begs the question: What is Memorial Day?

This special holiday ~ among the most solemn on the U.S. calendar ~ honors the men and women who died in the line of duty while serving in the United States military.

First known as Decoration Day, the annual event was originally held on May 30 to commemorate the soldiers who died during the Civil War by decorating their graves with flowers. It is thought that May 30th was chosen because it did not coincide with the anniversary of any war, and it would also be the time when flowers bloom throughout much of the country.

After World War I, the holiday was expanded to honor American military personnel who died in all wars.

In 1971, Congress established the last Monday in May as Memorial Day.

But what about Veteran's Day? And then there's Armed Forces Day as well. What's the difference?

Admittedly, there is some confusion about what each military holiday means. So here's a little explanation that might help clear things up a bit:

Armed Forces Day honors those who are presently serving in the military.
Veterans Day honors those who have served.
Memorial Day remembers those who died while serving.

One internet meme puts it this way:
Armed Forces Day is for those who currently wear the uniform.
Veterans Day is for those who used to wear the uniform.
Memorial Day is for those who never made it out of their uniform.

You might wonder: Why is the U.S. Flag flown at half-staff until noon during Memorial Day?

The answer is found in these words penned by ACLJ Senior Military Analyst Colonel Wesley Smith[1]:
"The flag is raised briskly to the top of the staff and then solemnly lowered to the half-staff position, where it remains only until noon. It is then raised to full-staff for the remainder of the day. The half-staff position remembers the more than one million men and women who have given their lives in service of their country. At noon, the flag is raised by the living, who resolve to not let the nation's battle heroes' sacrifices be in vain, but to rise up in their stead and continue the fight for liberty and justice."

Then there is a National Moment of Remembrance at 3 p.m. local time on Memorial Day.

"What is that?" you may ask. Indeed, I had the same question, while researching for this article.

Here's the scoop: In 1996, a Washington, D.C. based humanitarian organization, "No Greater Love" did a survey of children. They were asked why Memorial Day was a holiday. And the answers were eye-opening and disconcerting: hardly any of the young people realized the importance of the holiday was to remember and honor the war dead. They thought it was a day of barbecues, celebration and the beginning of summer. In fact, one child even remarked it was the day when the swimming pool opening for summer!

So the National Moment of Remembrance was begun in 1997 to inspire people of all ages and future generations to reflect on the true meaning of the holiday and realize the tremendous price in life and blood that was paid by those who fought for our cherished freedoms. This is done at 3 p.m. local time for one minute as the entire nation pauses during the holiday.[2]

On Memorial Day ~ and indeed throughout the year ~ let us take time for reverential silence to contemplate and remember the true significance and depth of the sacrifice rendered by the brave men and women in uniform, many of whom died while serving.

As we reverently come before God in prayer throughout the day, may we also remember those whose loved ones are no longer with them because they paid the ultimate price for freedom.

"Freedom is never more than one generation away from extinction. We didn't pass it to our children in the bloodstream. It must be fought for, protected, and handed on for them to do the same, or one day we will spend our sunset years telling our children and our children's children what it was once like in the United States where men were free."
~ President Ronald Reagan

"No one has greater love [nor stronger commitment] than to lay down his own life for his friends."
~ John 15:13 (Amplified Bible)

There is One Who gave His life for all. God sent His One and Only Son, Yeshua Jesus, to die on the Cross so that when we receive Him as our Lord, Savior and Messiah, we will get to skip hell and go to Heaven.

May I ask you a most important question? God forbid, but if you were to die tonight, would you know for certain you will be in Heaven?

If you are unsure even one little bit ~ there is a way to know for certain that will give you true peace of mind and heart. After all, eternity is like ~ forever without end ~ so let's make sure, shall we? And, what's great is ~ the price has already been paid in full for you.

Simply say these words from your heart:

Father God, please forgive me of my sins.
Jesus, come into my heart.
Make me the kind of person You want me to be.
Thank You for saving me.

Friend, if this is your first time praying this simple yet life-changing prayer, CONGRATULATIONS! The angels of Heaven are rejoicing and throwing a party in your honor!

Please feel free to reach out to me via the contact button on this site, so that I may rejoice with you in this most important decision you will ever make this side of eternity.

God bless you, and have a terrific forever!

*****

Sources for the information in this blog post:
* The Bible
* Wikipedia, "Memorial Day"
* History.com, "Memorial Day"
* U.S. Department of Veterans Affairs, "Memorial Day History"
[1] "Memorial Day: Why We Remember Those Who Died for Our Nation" by Wesley Smith, American Center for Law and Justice website (posted May 28, 2021)
[2] http://www.thememorialdaytribute.com/moment-of-rememberance.html

Photo copyright © 2015, 2021 Brian Tada. All rights reserved. To the glory of God.

To view full photo resolution ~ and the story behind the photo, please visit:
https://propheticportraits.net/featured/veterans-monument-camarillo-california-usa-brian-tada.html

This blog article was originally published on May 30th, 2021 with minor grammar editing February 3rd, 2023.