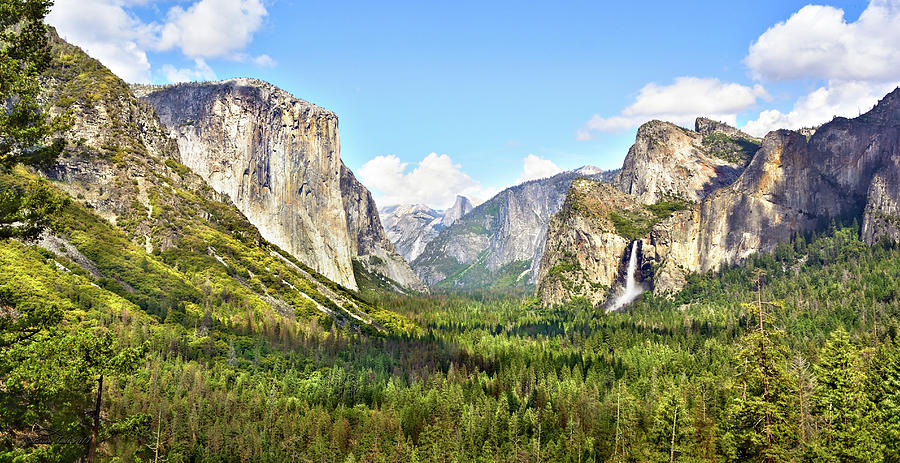 Title
Yosemite Tunnel View Afternoon
Medium
Photograph - Digital Photograph
Description
Clouds cast dramatic shadows as Bridalveil Fall roars to life at legendary Tunnel View, Yosemite National Park, in early June 2017. It was my first visit to this majestic scenic gem in Northern California. Absolutely awe-inspiring... God's creation is beyond magnificent.

Although a number of trees have died as a result of the previous five years of drought, the park is still spectacularly beautiful, with near-record rainfall and snow pack during the previous winter of 2016-2017 giving new life to the vegetation, waterfalls and the Merced River which flows through the valley.

The precious Ruach HaKodesh, the Holy Spirit, quickens to my heart 2 Corinthians 5:17:: "Therefore if anyone is in Messiah, he is a new creation. The old things have passed away; behold, all things have become new."

Tunnel View is located next to Wawona Road (California State Highway 41) at the east side of the Wawona tunnel.

In this photo I took of Yosemite Valley, El Capitan rises 3,000 feet on the left, iconic Half Dome is seen in the distance (about 4-1/2 miles away) and the Three Brothers rock formation with the 620-foot high Bridalveil Fall is on the right.

"Yes, you will go out with joy
and be led forth with peace.
The mountains and the hills
will break forth before you singing,
and all the trees of the field
will clap their hands!"
Isaiah 55:12

*****

Special Feature Nomination:
Peer nominated for a Special Feature in the Camera Art Group, 07.05.22.
Thank you to the nominating artists and to group host, Pamela Luther! God bless you!


Grateful to God and thankful to the group hosts for graciously featuring this image on the home pages of the following Fine Art America artists' groups::

* USA PHOTOGRAPHERS ONLY, 06.06.17
* ALL NATURAL BEAUTY OF THIS WORLD, 06.06.17
* 500 AND BEYOND FINE ART GROUP, 06.06.17
* IMAGES THAT EXCITE YOU, 06.06.17
* NATIONAL PARKS, 06.06.17
* ART - IT IS GOOD FOR YOU, 06.06.17
* WISCONSIN FLOWERS AND SCENERY, 06.06.17
* NATURE LANDMARKS LANDSCAPES WILDLIFE - ONE A DAY, 06.08.17
* YOUR VERY BEST PHOTOGRAPHY, 06.12.16
* NEW FAA UPLOADS LIMIT ONE PER DAY, 06.14.17


*****

Artwork notes::

An HDR effect has been gently added to my original photograph to bring out the rich details, tones and textures.

This image can be ordered as a print for a beautiful addition to your wall décor for home or office, and/or as a gift idea for the travel or nature enthusiast.

Embedded in the top right-hand corner is the Hebrew acronym for "B'ezras Hashem" [ב ס " ד] meaning "with God's help". It is a reminder to me as an artist and photographer of my dependence on the Almighty, the Originator of all creativity. This is a similar acknowledgement used by great artists like Johann Sebastian Bach and George Frideric Handel who signed their work with the Latin phrase, "Soli Deo gloria" which means, "To God alone be the glory".

Scripture taken from the Holy Scriptures, Tree of Life Version. Copyright © 2011, 2012, 2013 by the Messianic Jewish Family Bible Society. Used by permission of the Messianic Jewish Family Bible Society. "TLV" and "Tree of Life Version" and "Tree of Life Holy Scriptures" are trademarks registered in the United States Patent and Trademark office by the Messianic Jewish Family Bible Society.

Photograph copyright © Brian Tada 2017. To the glory of God. All rights reserved.

As this is part of my livelihood, your purchase would be appreciated to help support my work in fine art landscape photography. Thank you very much. God bless you.


Statistics
Viewed 7,517 Times - Last Visitor from New York, NY on 12/07/2023 at 6:40 AM