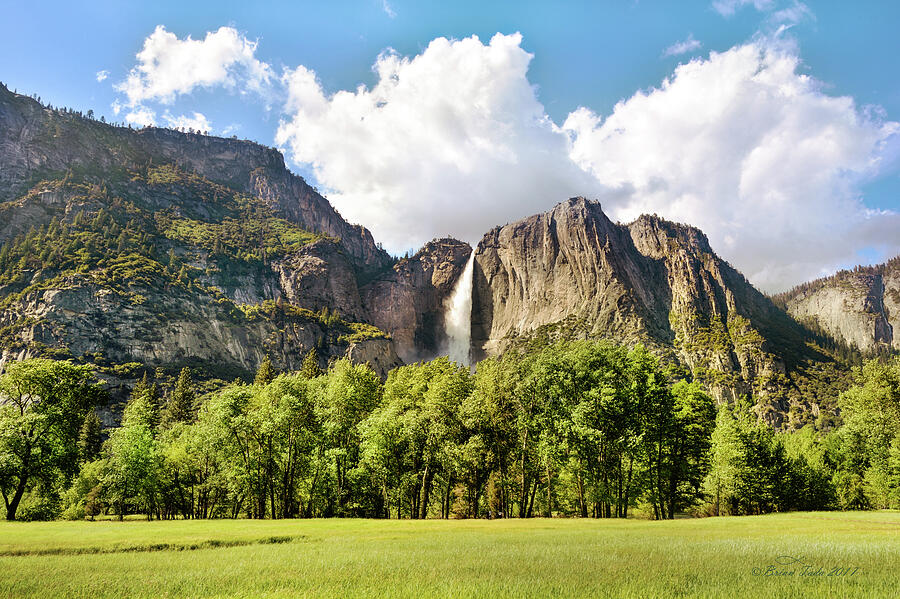 Title
Upper Yosemite Fall
Medium
Photograph - Digital Photograph
Description
Upper Yosemite Fall is seen near Cook's Meadow at Yosemite National Park, early June 2017.

A record snowpack from the previous winter has provided ample water to make this year's display particularly impressive.

Towering 2,425 feet (739 meters) above the valley floor, Yosemite Falls consists of three parts. Combined, they are among the 20 tallest waterfalls in the world, and rank third in height in the continental United States.

Visible along the right edge of the photo is Lehamite Falls, which cascades 1,180 feet (360 meters) down Indian Canyon. These lesser known nonetheless lovely falls flow only in spring or after a heavy rainfall. Lehamite is the Native American Ahwaneechee word for "arrowwood".

This was my very first visit to the spectacular scenic gem of Yosemite in Northern California. Absolutely awe-inspiring... God's creation is beyond magnificent.

"I lift up my eyes to the mountains—
where does my help come from?
My help comes from the Lord,
the Maker of heaven and earth."
Psalm 121:1-2, Tree of Live Version (TLV)


*****

Grateful to God and thankful to the group administrators for graciously selecting this as a featured image on the home page of the Fine Art America artists' groups ::

* WISCONSIN FLOWERS AND SCENERY, 07.02.17
* NATIONAL PARKS, 07.02.17
* TRAVEL ART, 10.03.17
* USA PHOTOGRAPHERS ONLY, Special Feature, Waterfall Photo of the Day, 01.23.19


*****


Artwork notes::

This image may be ordered as a print for a beautiful addition to your wall décor for home or office, and/or as a thoughtful gift for the travel or nature enthusiast.

Embedded in the top right-hand corner is the Hebrew acronym for "B'ezras Hashem" [ב ס " ד] meaning "with God's help". It is a reminder to me as an artist and photographer of my dependence on the Almighty, the Originator of all creativity. This is a similar acknowledgement used by great artists like Johann Sebastian Bach and George Frideric Handel who signed their work with the Latin phrase, "Soli Deo gloria" which means, "Glory to God alone".

Scripture taken from the Holy Scriptures, Tree of Life Version. Copyright © 2011, 2012, 2013 by the Messianic Jewish Family Bible Society. Used by permission of the Messianic Jewish Family Bible Society. "TLV" and "Tree of Life Version" and "Tree of Life Holy Scriptures" are trademarks registered in the United States Patent and Trademark office by the Messianic Jewish Family Bible Society.

Photograph copyright © Brian Tada 2017. To the glory of God. All rights reserved.
Statistics
Viewed 5,323 Times - Last Visitor from New York, NY on 09/26/2023 at 8:18 PM